Santa Marta, between the mountains and the sea
In Santa Marta waves lick the snowy slopes of the highest in the world at sea.

The oldest city in South America is full of magic hard to describe, its unique architectural heritage, beautiful scenery and rich cultural heritage, make this an ideal natural paradise to enjoy, know and remember destination.Here you can have it all, the Sierra Nevada de Santa Marta, a network of unique ecosystems on the planet, and enigmatic archaeological remains of the Tayrona culture
The beaches of Tayrona National Park, framed by a lush wilderness, recognized among the most beautiful in the world.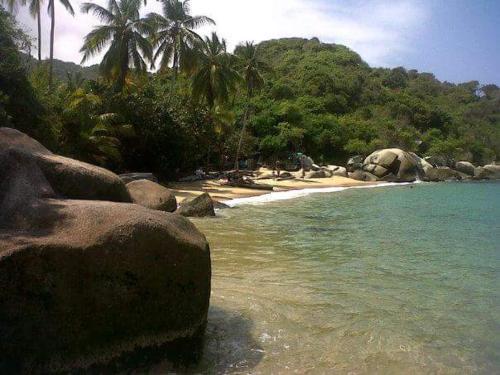 Areas populated by flocks of parrots, infinite variety of birds and herds of howler monkeys that inform his hustle to the other inhabitants of the jungle brings hikers. And a historical legacy, represented in the architecture and in the streets of the historic center, an ideal route to visit the Cathedral, the museums and the Malecón de Bastidas, besides knowing where you can enjoy a romantic sunset.
Land of Snow and indigenous
Santa Marta is privileged to have the highest coastal mountain in the world, this majestic mountains with snowy peaks is a historical and cultural of the most important civilizations in history epicenter, devoting a magical tourist destination, the wisdom of nature and indigenous.
Today, living there about thirty thousand Indians 4 ethnic groups: Kogi, Arhwacs, Kankuamos and Wiwas, the "brothers". It was declared a Biosphere Reserve by the UNESCO World Heritage Site in 1979.
Nature and adventure destination
Beaches, mangroves, coral reefs and jungle landscape are part of decorating Tayrona Natural Park, one of the biggest attractions that Santa Marta.
This natural reserve of pristine, white sand and surreal sunrises is considered one of the most beautiful bays of America, a gentle and ideal place, full of natural charm, where it joins the sound of the sea and the pure mountain air.
The park offers wide beaches, of which the three most popular are: Cabo San Juan, Bahia Concha, a beautiful spa with cabanas and restaurants; Neguanje and Canaveral, with its area of ​​camping and delicious beaches amidst lush nature.